Monday, September 22, 2008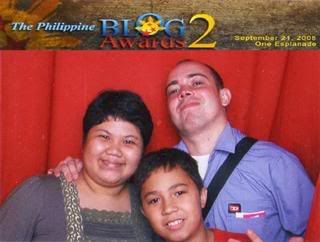 With just a year of being a blogger it was a wonderful experience to become part of the finalists for the 2008 Philippine Blog Awards. I have three entries in the finals:
Pagod Ka Na Bang Maging si Juan for Best Blog
- Commentary,
"The Philippines and the Filipinos I Want To See
" for Best Single Blog Post - Commentary, and
The Good and the Bad News Around Us
for Best Blog - News and Media. It was a fulfilling yet revealing experience to be included and to attend such a prestigious and seemingly elite circle of the top bloggers in the country.

When we went to SM Mall of Asia that day (Sept. 21) I am not expecting of any awards nor was I even expecting that I will be included in the finalist. So Mei, my son John Dwight and I went to Mall of Asia to spend some time together and for me to have relaxation and take away stress from too much work. Sometimes working too much without financial reward exhaust me specially nowadays that I need to pay lots of expenses.

It was a fun filled day where we get to do many things together and perhaps I will be discussing that in a separate post. We went to One Esplanade at around 5:00pm and bloggers were already there. The venue, Coral B was definitely an eye captivating venue. We get freebies which includes a souvenir magazine, some stickers, flyers and CD of RF Online and Crazy Kart from Level Up Games.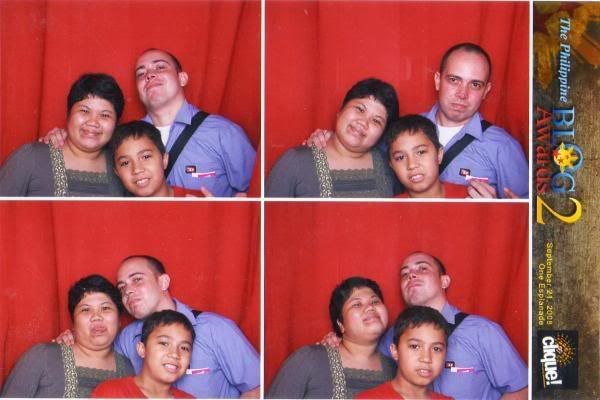 Mei told me that most of the bloggers were "sosyal" meaning they were elite or belong to the upper class. Well to be honest they were in fact using English most of the time despite the fact that they were all Filipinos. One person at the back was even so passionate in introducing her mom... well we should be proud of our moms anyway for we had only one unique mom.

The food was prepared by Joshia's Catering and it was indeed good food although some were not to the liking of our taste buds. We had dinner before the awarding started and we were full.

Awarding started at around 7:00pm. The awards came one after the other... the most lucky of those awarded perhaps were those who received a brand new Nokia N82. My hurt pumped when the categories for which I was nominated was mentioned but when someone else emerge as the winner it subsided.

Whatever, I tell myself that I did not expect to win... honestly it is still good to have won for it could have increased my self-esteem and well an honor to the blog as well.

So after the closing we went homeat around 9:00pm... eat at Jollibee Farmers Plaza... rode a bus to Baliuag and reach home at past 12 in the morning.

So that's the experience of being a finalist in the 2008 Philippine Blog Awards. Fun... tiring... exhausting... wondering... losing... eating... and finally going back to reality.
Email this post
---